New vid:
E-40 (feat. Akon) - "Wake Up"
     As you can see, 40 has dreads now, as he promised us in some earlier song I can quite remember at the moment.  They're oddly fitting on him, though; distracts you from the fact that his glasses are five sizes too small.  I'm not too sure about this song.  It's definitely a step away from anything from his last album, the hyphy oozing
My Ghetto Report Card
.  But Akon's on it, and he's been known to make hits out of songs, so...we'll see.  Personally, I'm giving it a 2.5 on the Shrug Scale.  The aurora borealis in the vid is cool, though.  And I
believe
 that's Nick Cannon DJing near the end.
And now, the Beloved Bone-Us Item: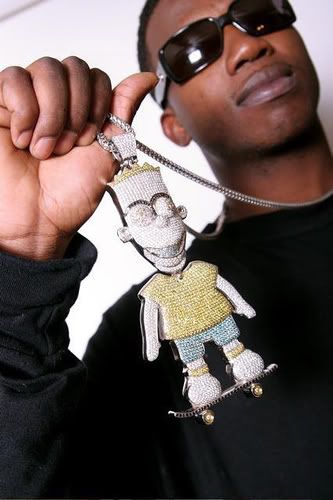 The song is actually E-40's, but...figured a picture of Gucci Mane would be more entertaining.  Also...I'm
fairly
 certain there won't [m]any other opportunities to show Gucci with his shirt off [pause], so here ya go.
E-40's "The Recipe", featuring Gucci Mane & Bun B.  It's also a step away from the sound of his last album, but not so mainstream.  The sample chop in the chorus was semi-interesting. Not a bad song, though.  E-40 must like Bun B a lot as a rapper; he was on two songs off of
Report Card
.  Bun B switches the topic slightly, offering a different recipe.  Hmm...let's give it a 3.5 on the Shrug Scale.  Oh, click the pic.
That's all, bipeds.